Rx Target Systems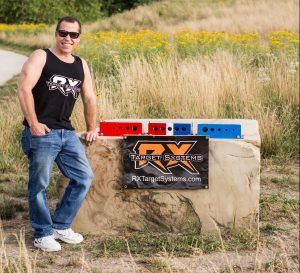 by David A. Bitkowski
My name is Dave Bitkowski and I am the creator of Rx Target Systems. I have been involved with air guns for 15 years, but the push came to turn making air gun targets a business after two things: 1) the advancement of air gun power began out balancing that of the air gun target and 2) the diagnosis of Granulomatosis Poly-angiitis in our 6 year old daughter, Melissa, which led to subsequent acute on chronic renal failure and need for a kidney transplant. Since the transplant, I have created a patient and family support fund in our daughter's name at the pediatric nephrology department of CS MOTT Children's Hospital, Ann Arbor, Michigan. Portions of our sales go to the giving fund, but others can also contribute. Making targets has become a positive coping mechanism in dealing with the enormous amount of stress of having a child with a critical illness. Rx Target System's mission is to not only enhance the skill of air gun marksmanship, but to also increase the awareness to pediatric kidney disease.
What sets Rx Target systems apart is its modularity, portability, and robust yet clean design. I want to make targets that not only develop skills but that air gunners will also enjoy shooting, whether it is alone or with others. Why the name "Rx Target Systems"? First, I wanted to somehow to incorporate my pride in being a pharmacist by profession. Second, each target configuration has a specific purpose or "Rx" of skill building. They are systems because one target has multiple capabilities simply by changing out the faceplate or paddles. The three dimensionality requires precision and accuracy because striking the rim and splitting the pellet does not guarantee a score in the Bull Challenge Series targets. The second major product line, the gunslynger or speed silhouette style targets are demanding for testing both speed and accuracy. We had the honor of providing the first resettable target system for the 2019 Pyramyd Cup, which greatly improved event efficiency preventing the need for carrying into the second day of competition.

Back up to March 2019. Enter an email to Rossi Morreale, American Airgunner Producer in which I was asking if he was involved with an organization which interested me. What happened next was nothing short of incredible. The 20-foot-pound target which was wood base and butt hinged paddles with magnetic assisted reset would be transformed in 30 days into the 45-foot-pound limit solid steel axel-based paddles with pull string reset. It would be featured on the 2020 season of American Airgunner Challenge. This would allow shooting the new high power 22 caliber PCP air guns that exploded onto the market yet still function with the traditional 12- and 20-foot pound air rifles found in big box stores across the country. Rossi loved the idea of the Two Shooter Bull Challenge target I already had as well as the big to small aperture target configuration but wanted to combine the two having a race to the middle.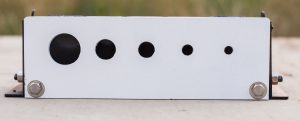 Rx Targets became the vehicle, turning idea to reality. Two teams, Red and Blue would shoot their own target but with the configuration starting with the small to big apertures before reaching the center plate and white neutral target which decided the winner. It just clicked and within 30 days I had it built, tested, and on the set for filming American Airgunner Challenge. It appropriately was given the name "Deadeye Duel" by the competitors since it pitted the skills of two shooters against one another in a race to the center white or "Deadeye" target. The concept of the target goes beyond just something to shoot at. It by nature brings people together whether for tournament and club style competition as well as backyard entertainment for family and friends. It's a great way to introduce new people to air guns in a group setting on a reactive target system.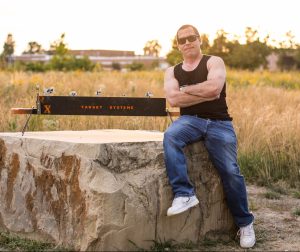 Rx Target Systems is committed to the advancing the air gun sporting industry and raising awareness to pediatric kidney disease. Thank you for taking time to read my story.
Subscribe to Airgun Hobbyist Magazine today!