Lights, Camera, American Airgunner!
by Tim Smith
I've been designing and building customized airguns for years. It was an honor when Justin Biddle, aka JB, the executive producer of American Airgunner contacted me and asked if I'd like to have my customized airguns filmed for a segment on the American Airgunner TV show.
Upon arrival in Arkansas, Ben (my son) and I were treated like airgun royalty by JB and Jordan Hughes, digital media specialist.
As Ben and I began to uncase the part of our collection that we brought. The airguns instantly began to attract the attention of JB, Jordan, and Rossi. Even the film crew stopped to see what was going to be unveiled next. The scene could be described with the excitement of unwrapping presents on Christmas morning.
Instantly each person at the shoot seemed to have a favorite airgun. Members of the film crew really liked what they called the "James Bond Gold Finger" airgun. Along with bringing our Crosman customs, we brought a Browning Leverage and Ruger Air Hawk.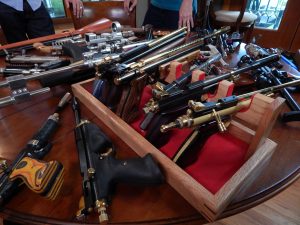 Being the first time that we've ever done anything like this, Ben and I were a bit nervous. But Rossi Morreale (host), and the 5 Star Production film crew quickly made us at ease, well mostly. There were times where we flubbed what we were saying and got a bit flustered. But Rossi and the film crew were encouraging and got us going again.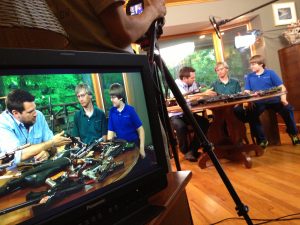 The filming of the segment lasted for several hours that morning. The actual film length was about 15 minutes edited down to 7 to 8 minutes for the customs segment. That leaves enough material for a future blooper reel as the rifles in the background were particularly troublesome.
Since our custom airguns were made for shooting and not just looking at, after our indoor segment was filmed, we headed outdoors for some trigger time.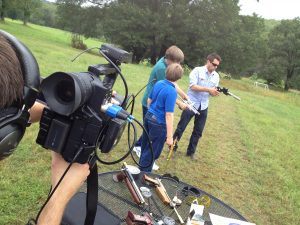 Rossi particularly liked the customized Crosman 2240 style airgun with a custom repeating breach and shoulder stock. He quickly learned how to cycle the custom prototype repeater and was accurately putting pellets on target in no time.
Another custom that Rossi found interesting was a customized Bullpup that started life as a Crosman 1377. What particularly got Rossi's attention was the on-board ammo container. He liked the fact that the airgun was a compact pumper airgun that had pellets readily available to load for another shot.
I believe that there were a few of our customs that he would have liked to take back home to California.
When the filming of the custom segment was done, Ben and I could relax and watch the filming of other segments that will appear in future episodes.
After a quick wardrobe change, Rossi was now ready to film a short introduction about the American Airgunner keyword contest where the prize is a $500 gift card from Pyramyd Air, a sponsor of the TV show.
In the afternoon,Cliff Eisenbarger and Andy Green from Elite Force Airsoft arrived to shoot a segment on Air Soft guns. Again, Ben and I got to observe the filming from our favorite place, behind the camera.
There was a lot of preparation, planning, and coordination that went in behind the scenes during the filming of each segment. Multiple camera men set up to film the segment from different angles along with sound people and others that prepared the location for the shoot. The producer, host, and guests discussed the flow of the segment and other details.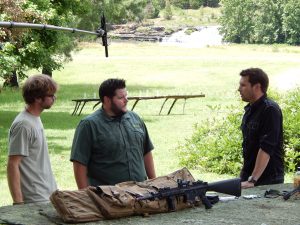 The Elite Force Airsoft segment was education for both Ben and myself as most of our background is with airguns. The higher quality Airsoft guns replicate their firearms counterpart in size, weight, and construction. And are also used in police, government, and military training scenarios as well as recreational purposes.
After the segment was filmed, we had the opportunity to talk with Andy and Cliff to ask questions on the various questions and the Airsoft guns, ammo, and different propellent systems such as C02, Green Gas and electric.
Andy also allowed us to shoot his personal Elite Force 4CR (used in the filming) in both single shot and full automatic mode. The 4CR had the feel of a firearm, without the recoil and report. After it, I understood why these would be popular for training purposes.
After the Air Soft segment was finished. Our day was not over yet. JB drove Ben and I to the 5 Star productions head quarters, where we were given a tour of the facility.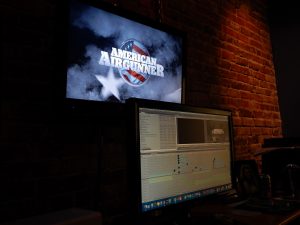 While there, the premier episode was ready for it's first viewing. Ben and I had the privilege to preview the episode before it aired on TV. After the episode ended, JB, Rossi, Jordan, and 5 Star asked us for our opinion on the show. We were able to offer some feedback and even assist in the discussion process of tweaking the episode.
About Rossi Morreale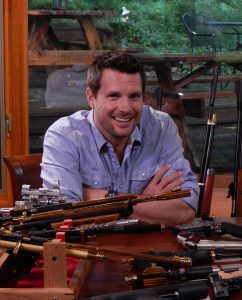 Rossi Morreale was born and raised in Arkansas. Where he attended the University of Arkansas and played college football on the Razorbacks. Prior to hosting American Airgunner, he has hosted various TV shows including, CMT's Can You Duet, Discovery's Belly of the Beast to TLC's Junkyard Megawars.
Rossi has some background with firearms, but not too much in airguns, during the filming of the customs segment, he was truly interested and engaged in all of the customized airguns.
His high energy and enthusiasm along with being a quick study on all things airgun related make him a wonderful host for the 2013 season of American Airgunner.
View this American Airgunner Episode on CarbonTV.com