Rifle Airgun Ammo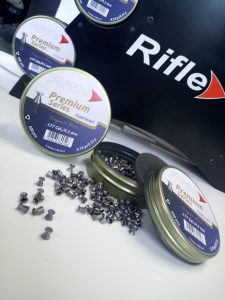 by Airgun Hobbyist
Located just outside the Press Room at SHOT Show was the NEXT Pavilion, developed to introduce new manufacturers that have not been seen at the SHOT Show before. Upon leaving the Press Room on the first day of SHOT, Tim and Gordon Smith found their way to booth N361 being manned by Leonardo Manduca of the Rifle Airgun Ammunition company and Olympian Felipe A. Wu. Felipe won the silver medal in the 10m air pistol competition in Rio during the 2016 Olympic Games. Having never met an Olympic medal winner before, Tim and Gordon fired off a bunch of question Felipe's way.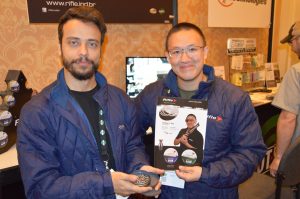 AH: "What was your first airgun?"
FW: "My first airgun was a Morini CM162EI…then I changed over many other brands and since 2015 I've been shooting with Morini again."
AH: "How did you start shooting?"
FW: "I started to shoot because of my parents. I used to follow them at the shooting range then I decided to start to shoot, too. After some years, at the shooting range, I watched an Air Pistol competition and asked my parents to let me start to compete as well. At this time I was 11 years old."
AH: "Can you tell us a little about how you train?"
FW: "Shooting well is just about hard work. Many people ask me about shooting secrets…the secret is to practice as much as you can."
AH: "Could you tell us what it is like to compete in the Olympics?"
FW: "The Olympics was just a dream come true. I worked very hard for many years to accomplish my goal (the Olympic Medal) and during the competition I was saying to myself 'You did everything you could so far, just enjoy the moment' and that was exactly what I did!"
AH: "What are your future plans for competitions?"
FW: "My future plan is to earn the quota for the Tokyo Olympics. I know it will be as hard as it was last time, but I'll work hard for it."
Now it was time to learn more about the Rifle Airgun Ammunition company, and our questions where directed to Leonardo.
AH: "Could you tell us about the Rifle Airgun Ammunition company?"
LM: "Rifle Airgun Ammunition has been around for nearly 30 years. We are based in São Paulo, Brazil. The company was founded by someone who had previously worked for a major internationally renowned ammunition company and thus started out with a lot of technical knowledge. To this day, the company remains a lead wire and lead shots provider to this fire arms ammunition company. At the beginning, we only made pellets for the general market, for shooters who just want to have fun, and could establish ourselves as market leaders. We still make this line, which is called Diabolo STR which is low cost though accurate ammo. It has been updated and perfected, of course, but it remains our entry line product. With the growth of shooting sports in Brazil and our interest in supporting it and providing high quality products for a growing number of shooters and practitioners, we decided to fly higher. In January 2015, we launched Premium Series, a line of competition pellets that quickly became acknowledged as the national alternative to the traditional European air gun ammunition brands, given its accuracy, that can be seen in narrow shot groups."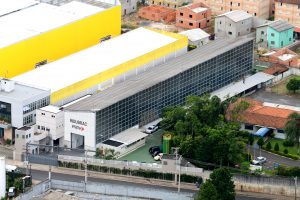 AH: "Can you describe some of the products?"
LM: "The lines: We currently make 3 lines of pellets. They are PREMIUM SERIES, which brings very accurate ammunition for competition shooters, Olympic level. These are your pellets if accuracy matters to you; SPORT & FIELD, that offers a larger number of model choices, including smooth and groved skirts pellets, perfect for training, competing and leisure, and Diabolo STR, our entry level line, which offers great cost-benefit. All our pellets come in .177 cal. and .22 cal. 2017 might also bring big bore ammo, but we don't have a launch date yet."
LM: "The models: PREMIUM SERIES:
The models are FLATHEAD, ROUND and POINTED.
FLATHEAD is more used by Olympic 10-meter target shooters. It's a wadcutter and thus makes it easier for scoring each round of shots (Olympic competitors only use .177 Cal./4.5mm). ROUND, in turn, is the choice of benchrest shooters for its precision for long range shooting, which can be as long as 50 meters. They're heavier than flatheads and their head shape gives them more aerodynamics and thus preserves their accuracy over distance. Also used a lot in silhouette shooting. POINTED is the favorite of those who want more energy for their shots. It's even heavier than ROUND, and provides more impact to the shot. More energy is preserved during its flight, and it hits the targets with more power. It also has more power to penetrate the target than FLATHEAD and ROUND. That's the choice of shooters who practice silhouette shooting and all kinds of plinking. It also performs very well in any field target shooting competition."
LM: "SPORT & FIELD: The models are CUTTER, which is the groved-skirted version of FLATHEAD, a little lighter; DOME, the grooved-skirted version of ROUND, also lighter; and SPIKE, which is the grooved-skirted version of POINTED. It's also lighter than its PREMIUM SERIES version. Still in this series, we have SUPER MAGNUM, with its bold looks and heavy weight and smooth skirt, offering more impact, and DESTROYER, our expansion model. It's unique pentagon-shaped head with a spike on its center gives it an aggressive look."
LM: "DIABOLO STR: Our entry level pellets offer great cost-benefit and do not overlook precision. Perfect for beginners who are still getting to know the sport but need ammo they can trust."
AH: "Can you describe how the pellets are manufactured?"
LM: "At Rifle Airgun Ammunition we manufacture pellets by swaging. In a nutshell, We receive the lead in ingots, that have been previously checked for purity, they become wire which goes into the machines to be swaged.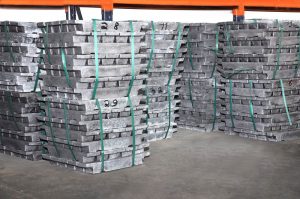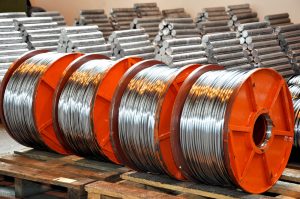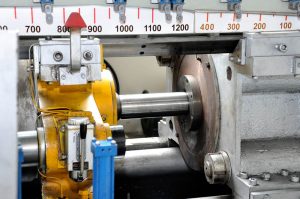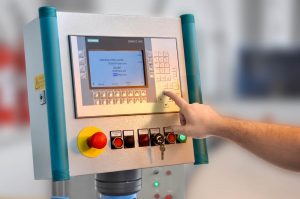 After that, pellets are checked for imperfections and only then go into the tins. Our production and packaging line is automated, but that does not make the human participation unnecessary. Operators check the diameter of the lead that comes from the ingots, technicians supervise the pellet machines at all times, change the dies if necessary and test the batches for shot grouping and separate them, quality control people patiently analyze the pellets before sending them to packaging and labeling."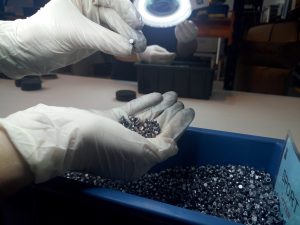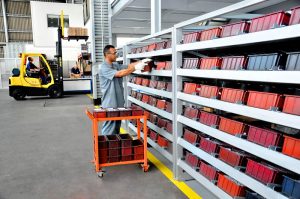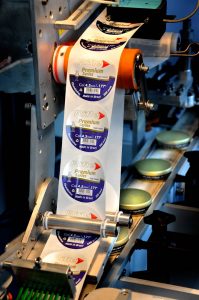 AH: "We see the Sport & Field pellet skirts are grooved, while the Premium are not. Could you tell us why that is? (Performance, accuracy, velocity?)"
LM: "You will find a lot of different opinions about this. As pellet makers who test their product a lot and are always in contact with shooters whose inputs help improve their ammo, We can say that SPORT & FIELD is accurate, but PREMIUM SERIES pellets are more. Some people believe that the grooves are the result of the process of making the pellets in the past, which is right, but there's more to it. Nowadays, the groovings are not necessarily there, they are an option. Some shooters believe that grooved pellets perform better in smooth barrel guns, while smooth skirted ones perform better in rifled guns because they imprint their own grooves on the pellets. This is not completely true, though, considering that. If you test them in different guns, you will have different results. There are also shooters who like better the way they look. So, bottom line, we can say that yes, the groves were part of the process of making the pellets in old times, because that guaranteed their uniformity as the discs rolled to shape them, but today it is a matter of choice for the shooters. As far as our tests for shot grouping show, and we run a lot and on a daily basis, smooth pellets from our PREMIUM SERIES group better and are more accurate in most competition guns, although SPORT & FIELD line pellets are also very reliable."
AH: "Will the pellets be available in the USA?"
LM: "The pellets are going to start to sell in the USA this summer."