NRA Special Edition Colt 1911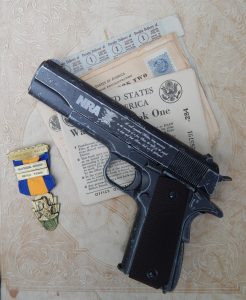 During World War II the USA's 2nd amendment aided in many ways. One such example is this statement by Admiral Isoroku Yamamoto "You cannot invade the mainland United States. There would be a rifle behind each blade of grass."
Limited to a production run of only 500 air pistols [in 2015], the NRA Special Edition 1911 celebrates the 2nd amendment and will surely be a future collectible. First displayed by Umarex USA at the 143rd National Rifle Association annual meeting in Indianapolis, the 1911 offers extreme realism with an aged finish that replicates years of use.
Each Colt 1911 is unique in its aged finish as well as serial numbers that range from 1 to 500. The air pistol with serial number of one was donated to the NRA and part of the proceeds of this limited edition are also donated to the NRA.

I had the opportunity to try the air pistol last year during a visit to Umarex USA. The airgun's metal construction and blow back action aids in its realism. As does the functioning grip and thumb safety.
With the excellent trigger pull, it was easy to quickly fire off the 18 BBs that are housed in a drop-free magazine. Once the last BB is fired, the slide stays open with a functioning slide stop/release.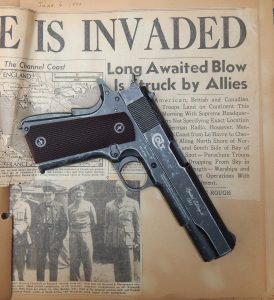 Along with BBs, the magazine also contains the valve system and a 12 gram CO2 cartridge. This all-in-one magazine design makes it convenient to have multiple loaded magazines for use. The added benefit to using multiple magazines is that it allows the CO2 cartridge to warm up while the spare one is in use.
The magazine is easily released by pushing the functioning magazine release button behind the trigger. Once the magazine is removed, the BB follower is pushed down until it locks in place. The BBs are loaded from the top of the magazine. Once filled with 18 (or less) BBs the follower is unlocked by pressing on it. CO2 cartridges slide into the magazine and are pierced by turning the piercing screw clock-wise using an Allen wrench supplied with the airgun.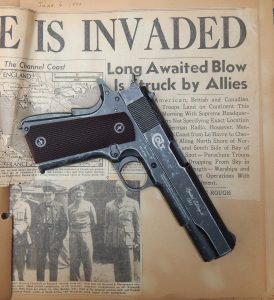 By the way, the air pistol can also be field stripped by pushing the slide stop out the left side of the airgun. It's not something I'd personally do with my NRA Edition, but it's nice to know that the realistic field stripping method is part of this replica.
The Colt 1911 is a beautiful replica airgun, I definitely recommend the NRA Edition.
If you are looking for a shooter, check out the Colt Commander air pistol also from Umarex USA. The Commander's styling has an updated 1911 styling that includes a skeleton trigger and hammer, plus white dot sights.