Max Michel BB Pistol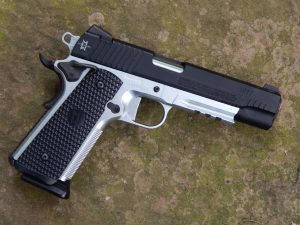 by Tim Smith
This air pistol made its debut on November 25th 2016 with the first 1000 units being sold during the holidays at Airgun Depot, Pyramyd Air and Big 5. When Sig Sauer offered me a pre-release sample, I jumped at the chance. Upon opening the box, I found it to be a very accurate airgun replica of World Speed Shooting Champion, Max Michel Jr.'s 1911.
Wanting to know a little about Max's childhood, I asked him a few questions. Among them being "Did you grow up with an airgun?" Max responded, "I grew up shooting several firearms but by the age of 5 I was already shooting 22s and would soon progress to 9mm. That said, I did shoot some BB guns and airguns as well in the backyard with my father." My next question was to him was "So your dad taught you to shoot?" Max replied "Yes, my father taught me at a very young age the importance of firearm safety. We shared in the shooting sports together for years until I joined the Army. Now that I am separated from the service we still continue to shoot together today a few times per week. Without his guidance early in my shooting career I wouldn't be where I am today."
Let's take a quick look at this new CO2 powered, BB firing replica from Sig Sauer. The first thing that caught my eye was the two tone color scheme, followed by the unique looking trigger. While it appears that it would feel uncomfortable, I found that not to be the case. With its light trigger pull, the air pistol, is enjoyable to shoot and aids in the accuracy.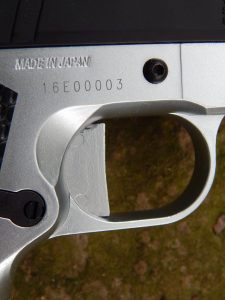 Like all CO2 powered airguns, the number of shots and velocity depends on the temperature. On a 72 degree day, I was able to fire 60 usable shots, while on an 82 degree day, the number increased to 70 shots before the power noticeably dropped off.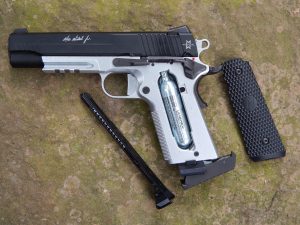 The removable magazine holds 16 BBs. During testing, traditional 5.1 grain zinc coated steel BBs produced up to 400 fps. While 7.4 grain Smart Shot copper plated lead BBs produced a bit less velocity at 340 fps. Both types of BBs performed flawlessly in this blow-back style air pistol.
With a light trigger pull and white dots on the sights, causal pinking was a pleasure. The recoil from blow-back action of the air pistol was enough to knock my sight picture out of alignment after each shot. I kind of like that as it's a good way to learn how to reacquire your target.
I definitely agree with Max when he said "I love shooting with my kids and this provides a platform for me to teach them safely while building their confidence." With the air pistol having a MSRP of $110.99 and being very economical to shoot, the 1911 Max Michel BB Pistol gives shooters a nice vehicle to learn gun safety, practice, train, and just have fun plinking.