Meet Rachel Martin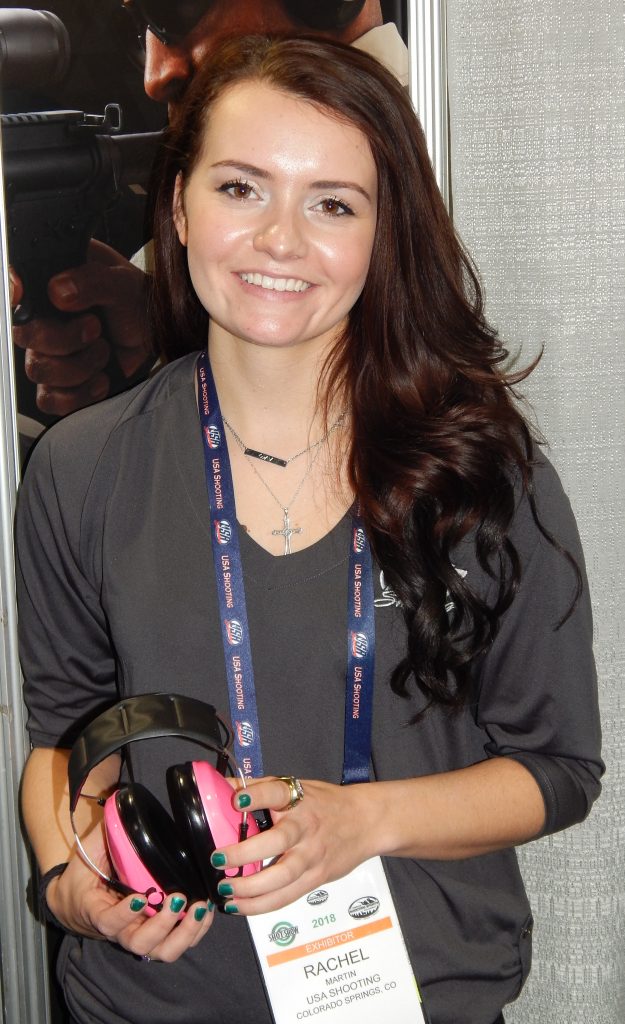 by Airgun Hobbyist
During SHOT, Gordon and Tim Smith, had the pleasure to meet Rachel Martin who is a member of USA National Shooting Team. The conversation they had with Rachel follows.
AH: Could you tell us a little about your background?
RM: I started shooting when I was about eight years old. And we joined 4H to show dairy cows. My dad is a big shotgun shooter and comes from a big shotgun family. 4H did not have anyone to coach their rifle team, so he volunteered to do that. I have two sisters, so he had all of us go to practice. I did not like it, it was not my thing. I was very much a girly girl, and I didn't think guns were a thing I could do.
AH: Was this .22 rimfire?
RM: These were air rifles. When I was about 13, I started loving it. The thing was, I wasn't super good at it, and really liked the challenge of it. From there, I really took off with it. I made the national junior team my senior year in High School. I went over the Czech Republic, won a junior world cup over there. Then, I got recruited by Nebraska to go shoot for them for four years. Honestly, for a while, I was going to stop shooting, after college, to get on with my life and career, but I really wasn't ready to put it down yet. So I decided to talk the coach at the OTC. I think, the one thing about shooting at the OTC, or trying for the Olympics, is it's not like a lot of these other sports where you get paid. My family has been great, God has definitely provided, and sponsors like Peltor Sport, have been a huge blessing.
AH: Have you finished at the University of Nebraska?
RM: Yes, I graduated in May, with my bachelor's degree and I'm currently working on the masters.
AH: What is your master's degree going to be in?
RM: Criminal justice. I'm training in the training center in the mornings, and I work at the District Attorney's office in the afternoons. I love it, I love to stay busy. I love my job, I love shooting, I'm really loving life.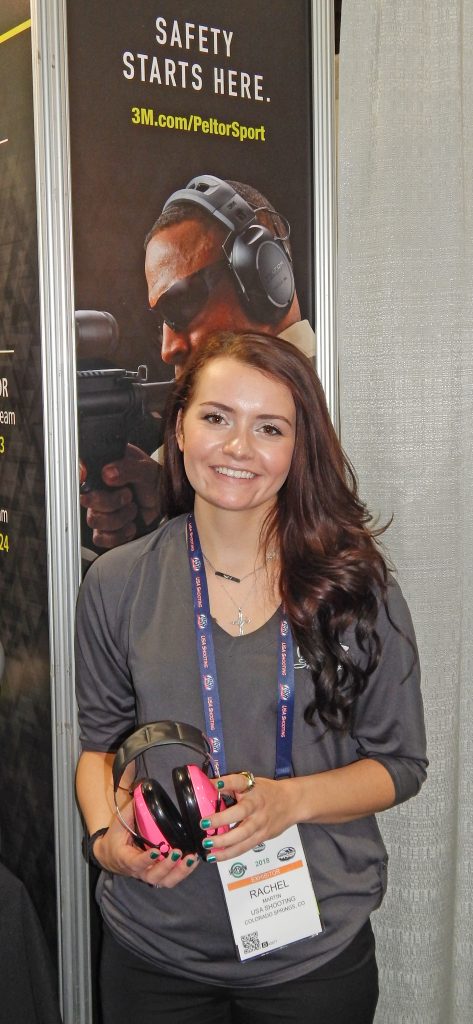 AH: What type of airguns do you use?
RM: I'm currently using a Walther air rifle, and I also have a Walther .22 rimfire right now.
AH: When you compete, what do you shoot?
RM: Air rifle and .22, just rifle, I thought about switching over to shotgun, but when you've been doing rifle for 15 years, the concept of a shotgun is the total opposite. I can understand the concept of it, but my brain, my body, they are not going to do it.
AH: Can you tell us more about your dad?
RM: He's been amazing. I always think it is weird having your dad as your coach, teacher, or whatever. It was a huge bonding experience. And still, I love having him come to matches. I don't think that I would have had as good of a relationship with him, if I hadn't shot with him. It filled that family atmosphere of really trying to do the impossible. He's been so supportive and everything. He's definitely one of my heroes.
AH: What type of airguns did you start with?
RM: We started with the Daisy 888s. We started with those and just kind of went from there. I shot that for probably five years. And then moved over to precision and started with Anschutz, and then I switched over to the Walther. I really like absorbing the recoil, that's my favorite part, and with the Anschutz, I couldn't really do that, they are a little bit more bulky, so they are a little more like men's rifles. The Walther is a little bit better for my body type.
AH: Did any of your siblings stay with the shooting sports?
RM: No, my sister Katelynn was recruited by Nebraska, but she decided to go to school at New Mexico State, which is where her boyfriend was. They got married, so that worked out for her. My sister Sarah, shot as well. She was the most natural shooter you've ever seen. She was amazing. She hated it, it was not her thing. She's very artistic, and that's her thing. She really likes fencing.
AH: When you shoot, do you wear hearing protection?
RM: With air rifle, you really don't need to, but I like to, it just quiets things down. I have a pair of the Peltor Sport Small Hearing Protectors in pink. I also like the little foam ones that just go in your ears, I kind of switch between the two.
AH: You wear the ear muffs to block out the sounds of people around you?
RM: Yes, for me it's more of a distraction thing. I really like to make it was quiet as I possibly can. It's not like shotgun where I need to block the gun shot noise out. When you really look at the top shooters, they are using ear muffs. The Peltor Sport pair that I use come in a hot pink color for girl shooters they're nice, it's not like it is all black, I really like the hot pink and they are very comfortable. There's a thing like "Look good. Shoot good".
AH: What competitions have you been in recently?
RM: In my sophomore year at the University of Nebraska, I won NCAA in .22. That was a huge career bump for me. We had a fall selection match, the past September, and I won that. I will be going to a couple World Cups. I'm going to Mexico and then South Korea to compete there.
AH: Is that for air rifle?
RM: Both. I qualified to shoot both, which I've never done.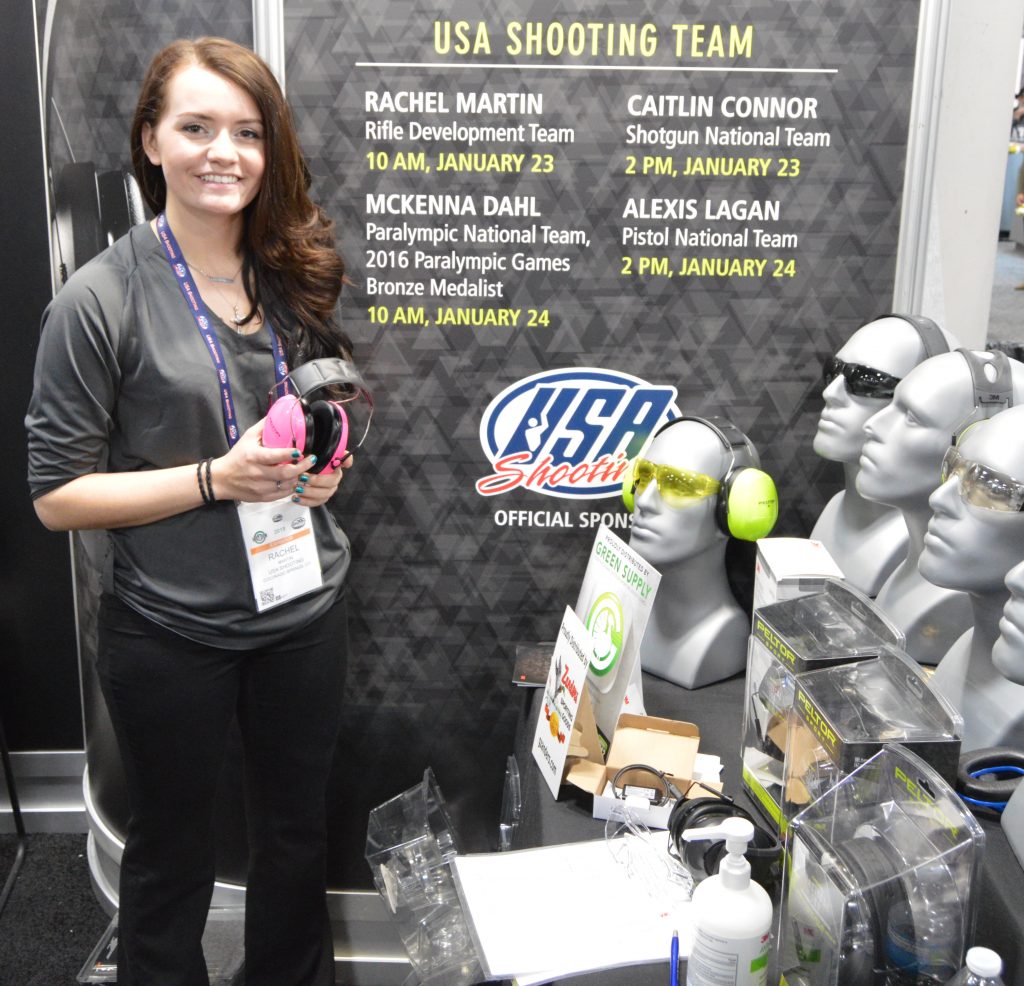 AH: In the NCAA, what ranking do you shoot?
RM: That was in .22, and for rifle, we do a team event and individual event. I think my team placed third that year, and then I won the individual. So I got first in that, and that was in .22. That was in 2015.
AH: We know that it can be difficult for people to travel with airguns, since different airports handle air cylinders differently. Have you had any noteworthy experiences at the airports?
RM: Thankfully no, but I've heard horror stories. We usually contact the airports, to let them know that we are coming and when. They really don't like the air cylinders in air rifles. There was one year we had Junior Olympics in Colorado Springs, and there was about 200 kids, and the airport would not let any air cylinders through. We had to ship them all to the kids.
AH: So they got there with them ok, but could not return home with the air cylinders?
RM: Yes, they couldn't go back. It's something that you have to be aware of.
RM: There are a lot of people that I talk to who are scared of guns. They don't want to shoot, but I find once they do, they find it amazing. They like it and find it is so much fun, I think it's just them getting comfortable and learning how they work.
AH: And airguns are great for getting people started.
AH: We were talking yesterday, about how women are the fastest growing segment of the shooting sports.
RM: Yes, it is really cool. The nice thing about shooting, is it's not like football where the guys have a huge advantage with the way they are built. Shooting is an even playing field. It is fun, and I love that rifle is the only NCAA sport, where men compete against women, we are not separated.
"Shooting is a great way to spend time with your family and build those relationships."
RM: Shooting is a great way to spend time with your family and build those relationships. Because I think, you now have those sports, where the parents are helicopter parents, and they really push their kids over the edge, but in shooting, you sometimes see that, but I really don't see it, as much as I see it in other sports.
AH: With safety, you stress so much in the environment, and at the firing line, that even with an airgun, you can't take safety for granted.
RM: I've been competing for 15 years and never seen an accident or anything.
RM: This year has been an amazing year for shooting sports. It's fun and I love it, but it's also an awesome thing to say "I'm a shooter".
AH: You don't want to hide it?
RM: Yes, exactly.
AH: If you can get somebody interested enough, and you say you're a girl and you shoot guns, maybe they'll say to you "Can you teach me?" Then all of the sudden, you've got somebody hooked.
RM: Right, and it's nice because I think, sometimes it's hard to be a female athlete because you're trying to be really strong and buff, but you don't really want to be a guy. It's nice to see that you have these girls, who are very good, but they're also very feminine, they wear pink ear muffs, or something like that, and I think that helps draw girls. It's not like a girl trying to be a guy. It helps to grow the sport.