RWS LP8

by Tim Smith
When the RWS Diana LP8 first entered my life last summer, I was not sure of what to make of it at first. The large black synthetic framed spring powered air pistol was a completely different power plant from the replica CO2 air pistols that I regularly shoot in warm weather.
While the MSRP of around $300 for the RWS LP8 may seem a bit high at first, the saying "Don't tell me what it costs, tell me what it's worth" comes to mind. And the cost of ownership may be less than you think.
Me being, let's call it frugal, the LP8 gets high marks in the per shot cost of use category. Being a break barrel, all that is required to enjoy the LP8 is air and pellets making it very economical to use right out of the box.
I like to be able to just grab the LP8 and a box of pellets and be ready for hours of shooting fun. Not needing to carry CO2 cartridges, or PCP accessories, I can just sit in my lawn chair and shoot tin cans for hours without having to get up.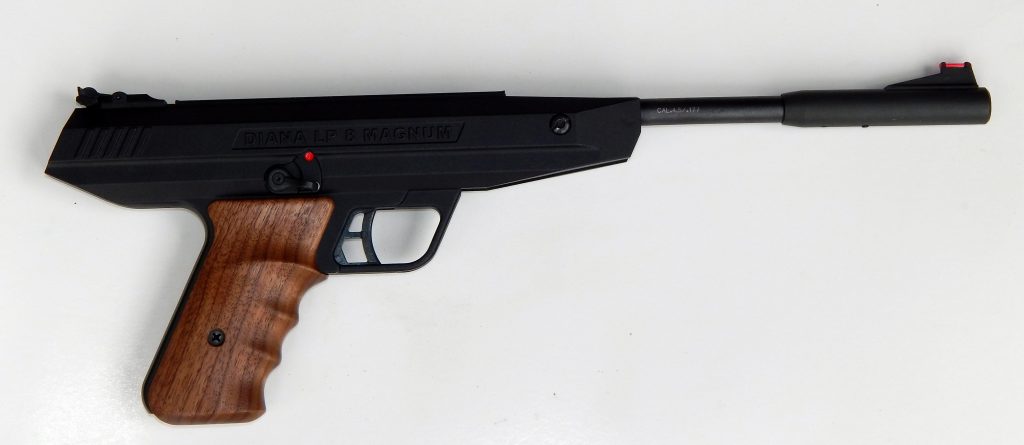 Another benefit of the LP8 is its life time warranty that covers defects in workmanship and materials. Parts that wear out such as seals and springs are warranted for 18 months from the original date of purchase. That's good to know as my LP8 has had at least 3,000 pellets fired out of in the last 9 months.
As for the cost of those 3,000 .177 caliber pellets, it was less than 1.5¢ a round! And provided hours of shooting pleasure. Maintenance consisted of just of few drops of RWS Chamber Oil after every thousand rounds.
The LP8 has similar lines as the Diana air pistols of years ago, along with a few modern changes that include an automatic safety, fiber optics sights and an integrated rail for mounting optics.
The red fiber optic front sight has held up well and remains undamaged during breaking the barrel thousands of times over the last months. The fully adjustable rear sight with green fiber optics makes the LP8 an accurate airgun.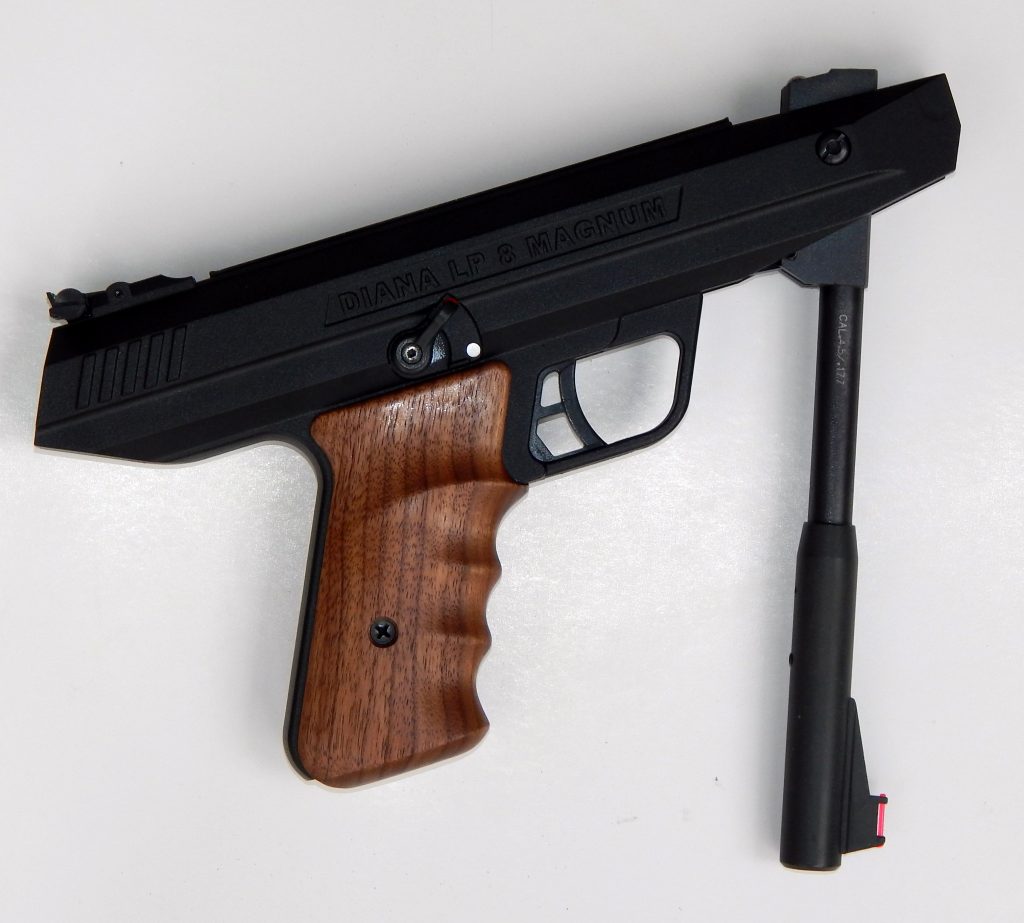 If your eyes are aging like mine, pistol scopes and red dots can be mounted to the integrated 11 mm dovetail rail.
For the time being I'm sticking with the factory open sights. They work well for playing kick the can. Setting up a tin can approximately 15 feet away, I can enjoyably hit the can in the correct location to move forward with each shot. My maximum hitting distance is around 60 feet. With the addition of a scope, I bet I could beat that distance.
Cocking effort of the LP8 is in the neighborhood of 24 pounds. That's not bad considering it can fire 7.9 grain .177 caliber pellets at 560 fps. The LP8 does come with a cocking assist, however I've found that I do not need to use it. Cocking and firing the air pistol 100 or more times per shooting session, I've found cocking the last shot just as easily as the first, and without feeling fatigued.
An automatic safety is a nice touch, I'm actually starting to get used to them on single shot airguns. The way the automatic safety is designed is when the barrel is broke, the safety is moved from the fire to safe position. The ambidextrous safety then be moved from safe to fire (and back to safe).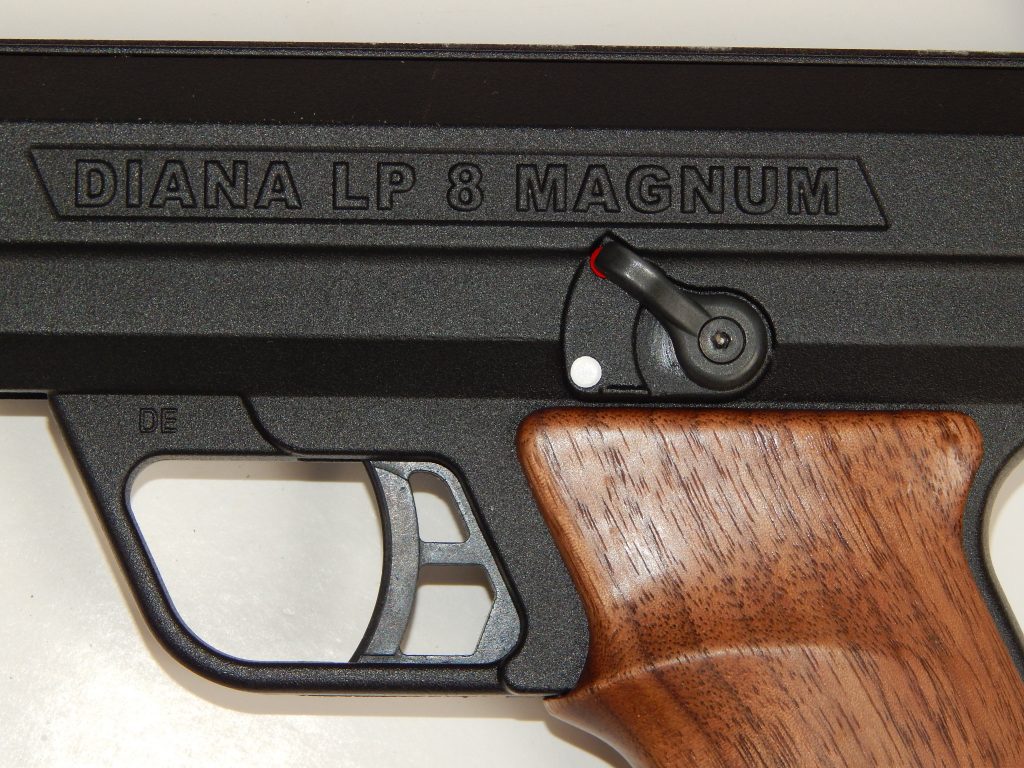 Out of the box, the LP8 seemed a little stiff. However with a few hundred cycles of breaking the barrel and firing the LP8 the air pistol broke in. Ease of movement of the safety improved and the trigger also benefited from the break- in period and became crisp and smooth.
I found the LP8 to be an extremely fun plinker. The LP8 does well with paper targets as well. It's now my go to air pistol when I want to relax with some informal backyard plinking.
With foot pound energy of just under 6 FPE, the LP8 would probably not be the best choice to humanely take small game. However, it should be more than a match for small vermin at close range.
To answer the question of "tell me what it's worth" the price seems more than reasonable for a German designed air pistol that's well built, economical to use, accurate and a pleasure to own.
Airguns, like people, have different personalities, and when you first meet them, you are not always sure how the relationship will develop until you've spent some time together. After spending so much quality time with the RWS Diana LP8, I've found a very good friend that I want to continue to spend more and more time with.
SPECS:
•Caliber: 0.177 (4.5mm)
•Capacity: 1 Pellet
•Power: Spring
•Velocity: Up to 650 fps
•Weight: 3.2 lbs
•Barrel Length: 7 inches
•Overall Length: 18 inches
•Sights: Fiber Optics
•Safety: Automatic
•Grips: Ambidextrous
Custom Walnut grips for the RWS LP8 Magnum www.galbraithbrothers.com
Subscribe to Airgun Hobbyist Magazine today!