A Look Inside Pyramyd Air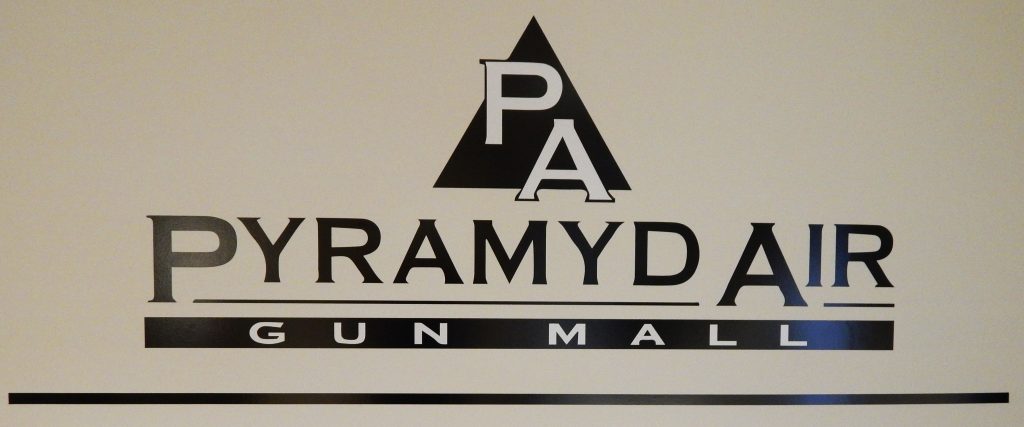 by Tim Smith
We must admit, upon pulling up to Pyramyd Air's new facility in Solon Ohio, we were not quite sure how long our visit at Pyramyd Air would last or exactly what we'd see inside. But we were sure excited!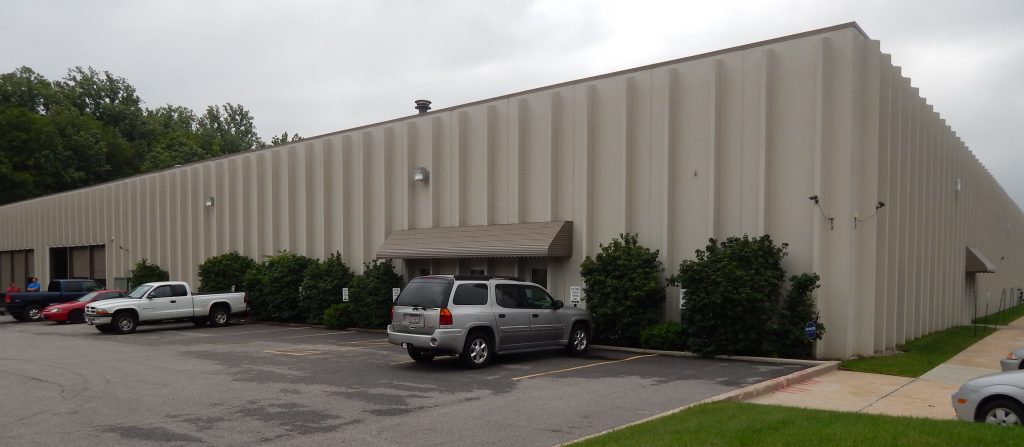 Upon entering the reception area, what was instantly noticed was that the building was huge and had plenty of room for future growth.
Marketing Specialist, Stormie VanMeenen greeted us and guided us to our first stop, the warehouse. This massive 58,000 square foot area of the building contains over 4,000 sellable SKU's.
Walking up and down the numerous aisles of products was a treat. There were so many products that we would like to buy, we wished we'd brought a shopping cart and had higher credit card limits.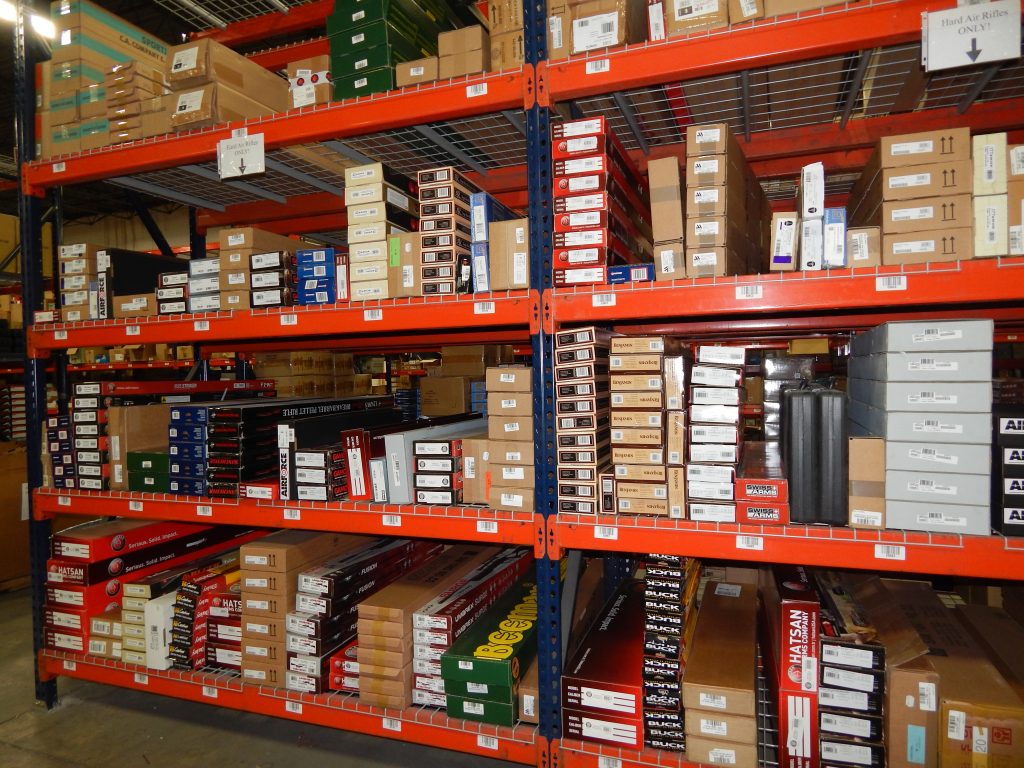 Imagine seeing all the products that you've only viewed online or in catalogs right in front you. The colorful boxes almost begged us to open the package to see the product in person.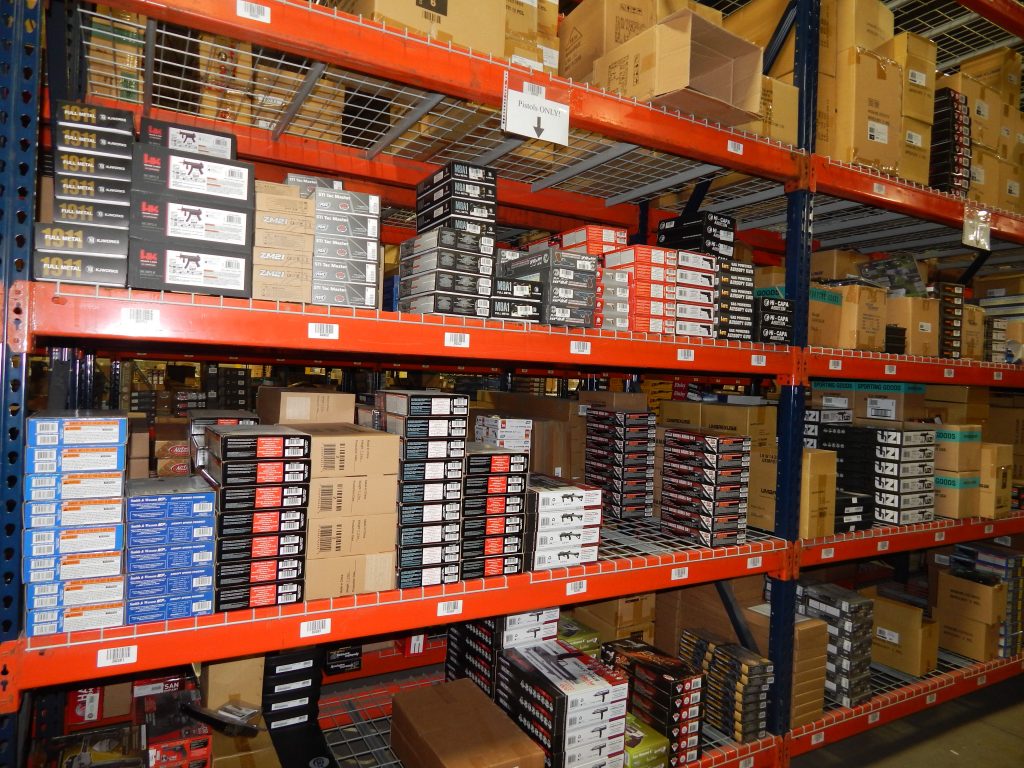 Organization is the key to being able to locate and ship items quickly. The aisles were designated to different product types; air rifle, air pistol, ammo, airsoft, accessories and more. Each product location in the racks were marked with a bar code for easy identification while picking an order for a customer.
To see how fast P/A can process orders, we tagged along with Warehouse Manager Todd Bahr as orders came in. It was a good thing that we had sneakers on as we chased behind him as he was quickly going up and down aisles picking items. The use of high-tech equipment greatly aided him in processing orders from the time orders come in, to the time the item(s) is shipped.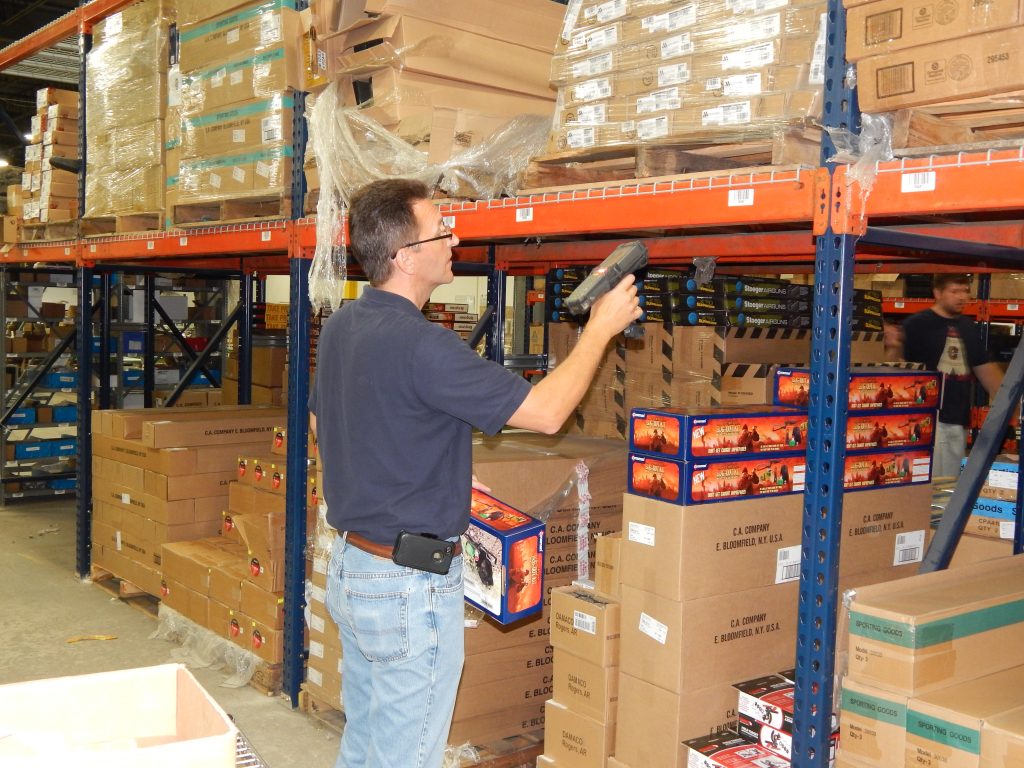 After our time with Todd, we understood how P/A is able to ship most orders the same day, if the customer orders before noon Eastern time.
The next stop was to the airgun repair area where we met with Gene Salvino, P/A's Senior Technician. Gene showed us around the shop. Each airgun smith had an impressive array of parts, tools and equipment to repair most any type of airgun. After a short time with Gene, it felt like home to us swapping different ideas and repair techniques.
Since many at P/A are airgun enthusiasts, we took the opportunity to show off a few of our customized airguns that we had brought. About that time, Josh Ungier, the owner and CEO came to meet us. After checking out our customs and giving us some shooting tips, Josh invited us to his office to talk airguns.
Josh's office was something to see. As you can imagine, there were numerous airguns in his office. You can tell his passion for airguns as Josh showed us airguns ranging from a Crosman 150 to a mint in box one of a kind airgun that never made it to production. The walls were lined with various items, including a picture of his parents.
He told us about the humble beginnings of his company and the ethics he holds dear that has grown it into what it is today. One conversation with Josh was about honesty, integrity and his belief that by taking care of his customers, they'll become repeat customers.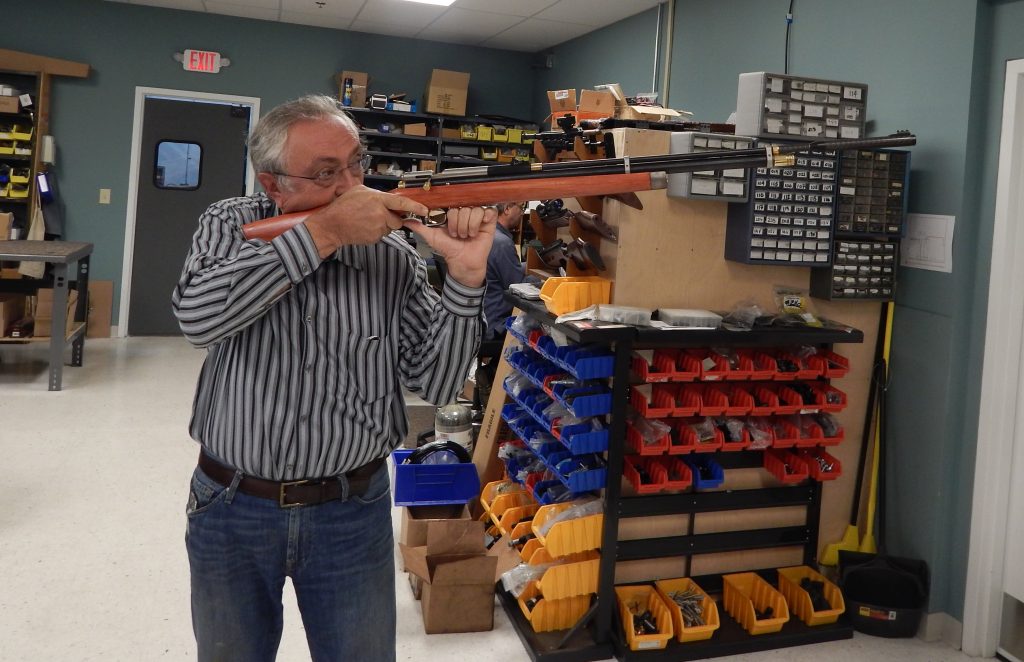 Josh mentioned that he was born in Ukraine and speaks numerous languages including Russian, German, and Polish. He talked about his time in the military and how guns are simply tools that are neither good or evil. And that any object, including a fork, could be used as a weapon.
We also pondered, if other countries in the world had an equivalent to the USA's second amendment, would it still be possible for cities in these countries with millions of residents to be taken over by just a few thousands who were armed.
We could tell just how Josh liked his job as he recounted a prank he played on Rossi Morreale during the filming of an American Airgunner TV episode. The prank was that Josh had both a firearm and airsoft replica and convinced Rossi that he could hit an apple with his airsoft gun (in reality the firearm) and an extremely long distance.
After our conversations, Josh showed us around other areas of the P/A facility. I believe that one of his favorite areas is where his big bore pellet press is located. He has designed several speciality-use pellets. Some of the pellets just looked brutal as we could imagine the damage a target would sustain after being hit by one.
After viewing these big bore pellets, Josh asked if we'd like to try a few. Of course we said "yes", and Josh retrieved a few his personal airguns and guided us to P/A's indoor range.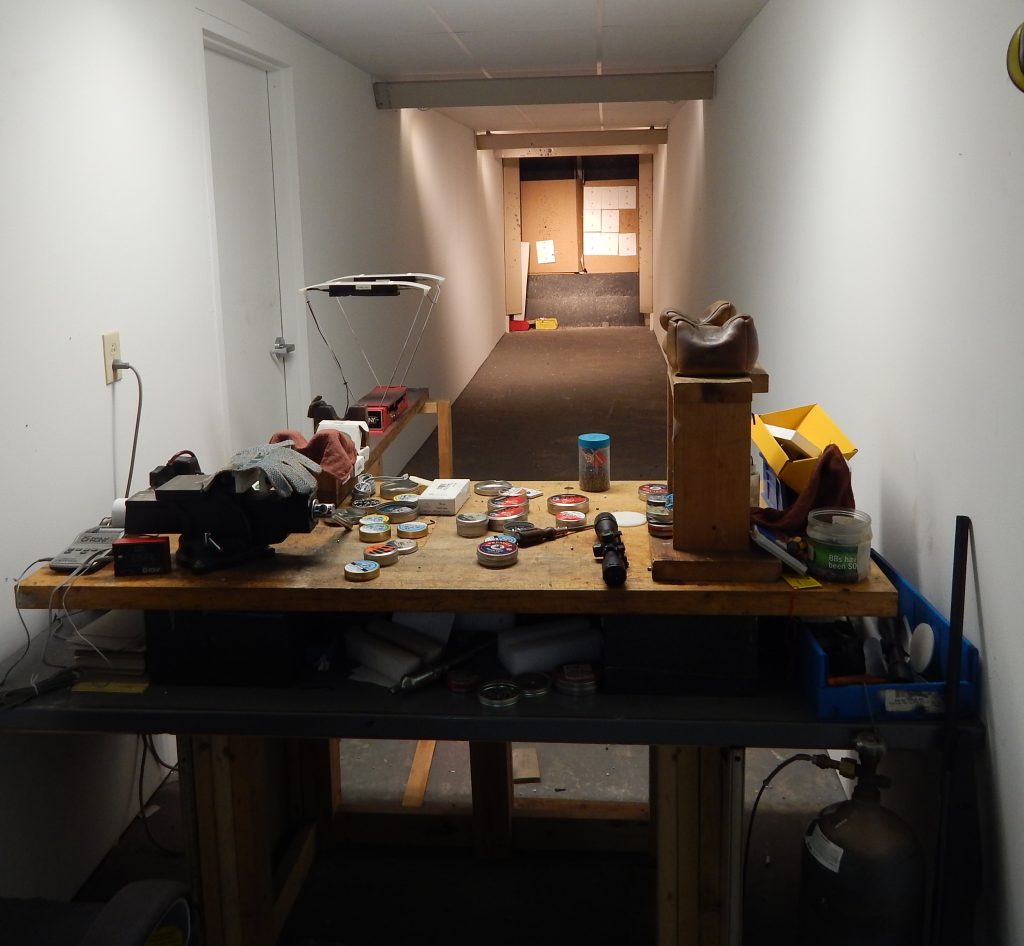 At the indoor range we made some serious noise between the report of the airgun and whack of the pellet on the backstop. When I asked Josh if the noise we were making would bother the employees, he smiled and basically said that they are used to it.
The next stop was to see Val Gamerman, the President of Pyramyd Air. Val talked to us about the move to the new 70,000 square foot building. When I asked if the building was leased, I was somewhat surprised to hear that they had purchased it. Val explained that leasing would have been a lower cost initially, but over time it would have been more costly. As I thought about it, I realized that P/A is really focused on the future.
At the time of our visit, Val said that P/A employs 58 people and will be hiring more people in the future months.
Before the end of the day, we returned to see Gene Salvino who asked if we'd like to assist in a gas spring conversion on a customer's order of a Hatsan airgun.
The first step in the process was to take the air rifle to P/A's indoor range to get a baseline velocity of the air rifle before it's disassembled.
The conversion consists of disassembling the air rifle, removing the coil spring, and installing a gas spring. While that may sound simple, we observed it to be a detailed process that requires care with the springs being under tension.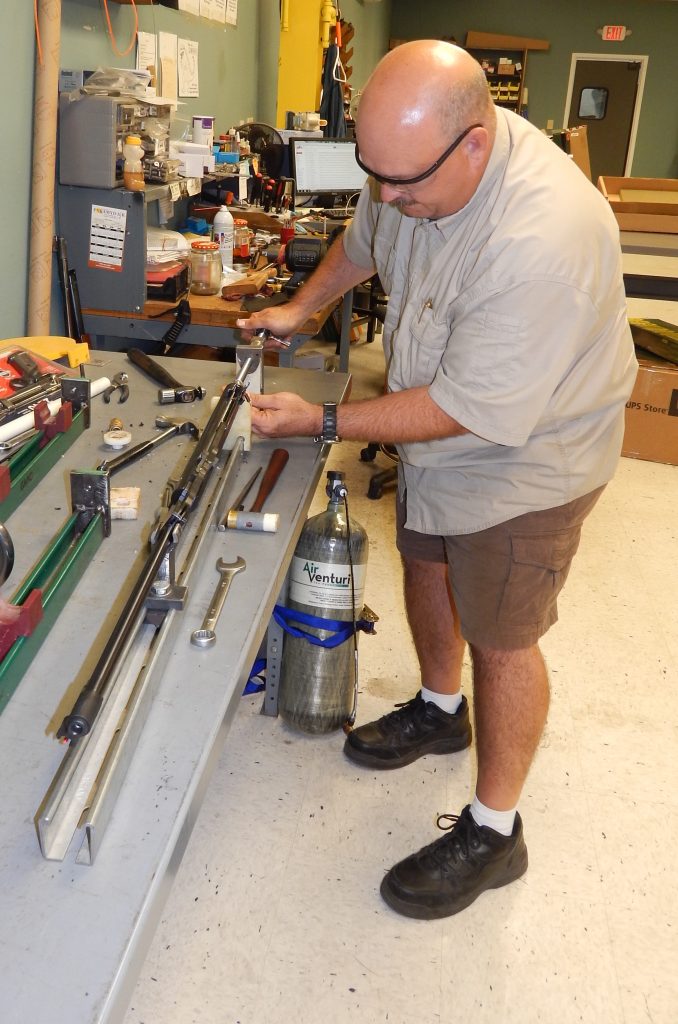 After observing the process, I'd say this is definitely something you'd want an expert to do.
When the conversion was complete, Gene took that airgun back to the indoor range to check the velocity and functionality.
Then back at the bench, the coil spring internal parts replaced during the conversion were packaged up and put inside the Hatsan's box along with a certificate he signed being the technician who did the work.
At the beginning of the article I stated that we didn't know how long our visit would last. In total it was 6 hours that passed too quickly. What we saw was an ever expanding business that's in it for the long haul.
The people we met were not just employees, they were also true airgun enthusiasts.
Subscribe to Airgun Hobbyist Magazine today!