Colt Peacemaker Replica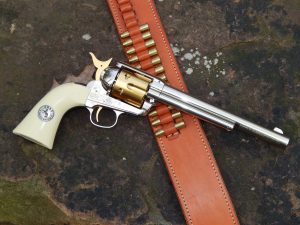 by Benjamin Smith
I've had the pleasure to visit Arkansas several times over the years and during each visit, I make sure to stop by the Fort Smith National Historic Site. You may remember Fort Smith from the John Wayne movie "True Grit", or maybe the "Legends & Lies" episode about Bass Reeves.
Housed on the grounds of  the national park, is an exhibit of small arms. Anyone who likes western era weapons would definitely like what they see. Many of these firearms, were actually owned by people we've only read about.
Encased in one of the displays in the museum is a pair of Colt .45 caliber revolvers owned by Bud Ledbetter, who received a commission to deputy US marshal in 1896 . What made these two revolvers memorable is the fact that they each seemed to have a nickel frame and gold colored cylinder, hammer and trigger. Each Colt also appeared to have a 7 1/2" barrel plus stag horn or ivory grips, making for some classy looking firearms.
Ok, these are beautiful museum pieces, there's no chance I'll ever own a Colt Peacemaker that is so pleasing to look at. Or that's what I thought until the fall of 2016 when Umarex USA (based in Fort Smith AR) introduced a variant of their airgun replica of the Colt Peacemaker.
The replica is beautiful and makes me want to put on a pair of curators gloves before handling it. Since airguns are made to be shot, not hung on the wall, I reluctantly used the Colt replica. "It's not wear, it's just character marks." is what I kept telling myself. "And besides, it will just look more like Bud's Colts overtime."
What I find so appealing about this replica air pistol is its all metal frame and realistic styling. Plus it operates like a single action revolver, including with it are cartridge look-a-likes that hold each pellet.
The CO2 powered Peacemaker shoots pellets out of its rifled at barreled at just over 400 fps.  Like the other Umarex Peacemakers, the CO2 cartridge loads into the grip frame.  The cylinder holds 6 cartridges where the pellets are loaded in the "primer" end.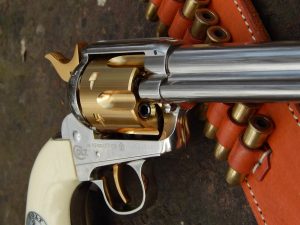 It's amazing how many variants of the Umarex replica there are, the John Wayne Edition, NRA Edition, nickel, blued, weathered, U.S. Marshal Edition and engraved.  Let's hope that there will be even more variation coming in the future.