Air Venturi Tank & Adapter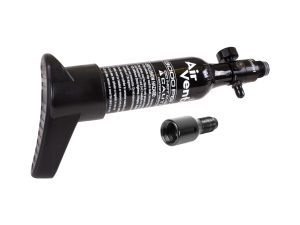 by Airgun Hobbyist
When this Air Venturi air tank & adapter was introduced, the first word that came to mind was "Genius". Why? HPA (high pressure air) is not cold sensitive like CO2 and can be used on those cold winter days. The 13 cubic inch bottle can be pressurized up to 3000 psi. It's regulated down to 1100 psi allowing for hundreds of shots. For airguns such as the Sig MCX and Umarex EBOS this refillable HPA tank and adapter can be used instead of expensive 88 gram CO2 cartridges. And best of all, it's refillable!
Filling the air tank is simply done be connecting the tanks fill port to your HPA hand pump, scuba tank, compressor, or larger fill bottle.
Our testing was done using a SIG Sauer MCX air rifle. The adapter is installed by screwing it into the "stock" end of the airgun. Next the air tank is screwed into the adapter and you're ready to go shooting.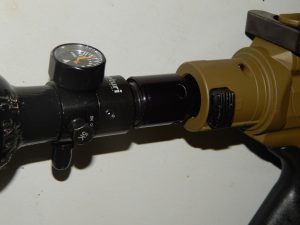 We were happy to see that the velocity was the same using either 88 gram CO2 or the HPA tank. After filling the HPA tank to 3000 psi and firing three full magazines (90 shots) of out of the Sig MCX, the pressure gauge showed the pressure to be 2500 psi. This would allow for hundreds of shots to be fired before the air tank would need to be topped off.
This combination tank and adapter would be extremely useful on the discontinued Crosman 2250XT that was popular for modding. Imagine using HPA (instead of 88 gram CO2 cartridges) with a hot valve and longer barrel. That would be a slick all-season shooter.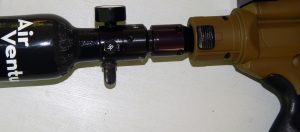 The adapter will not work on all 88 gram CO2 powered airguns so as the Berretta CX4, Walther Lever Action, Benjamin AS392T and the like, where the tank/adapter will not fit in the space allowed for the 88 gram CO2 cartridge to be housed.
So, do we think this product is useful? The short answer is "Yes". If you already have fill equipment for your PCP airguns and own a Sig MCX or Umarex EBOS, purchasing this $100 tank and adapter could save you some cash by not needing to buy the 88 gram CO2 cartridges. Plus allowing for better performance in colder weather, these air rifles will get far more use.
Subscribe to Airgun Hobbyist Magazine today!