Meet Eric Henderson of Adventures  Afield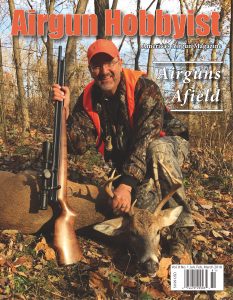 by Airgun Hobbyist
Over the years, Eric Henderson has bagged a number of native and exotic game across the United State and Africa using big bore airguns. We had the opportunity to chat to him about his life and would like to share it with you.
AH: "Could you tell us a little about yourself?"
EH: "I am a proud husband and a father of a wonderful wife and daughter. I'm also Desert Storm veteran as I was in the Air Force as a jet engine mechanic. I love the outdoors. I own a paintless dent repair business on top of Adventures Afield."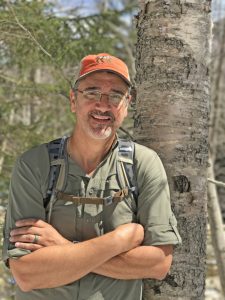 AH: "What was your first airgun?"
EH: "It was a Daisy Red Ryder. I pretty much wore that thing out. I would make an old west town out of cardboard and make small bad guys. I'd be the 'hero' taking them out with my BB gun. That's what kids do."
AH: "Did your dad teach you to hunt?"
EH: "My dad taught me to hunt at a very young age. He also taught a hunter safety class which I would go along with them every year and participate. We did a lot of camping, trapping and fishing. Probably more fishing, and trapping than hunting."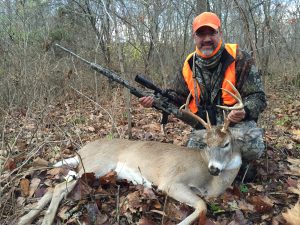 AH: "How long have you been into big bore airguns?"
EH: "I got into big bore airguns back in 1999. It was a single shot Career 9 mm Korean gun. I was working in Wisconsin and bought it from a store called Scheels. A few months later I met Dennis Quackenbush at an airgun show in Minnesota. That's when I bought my first powerful big bore."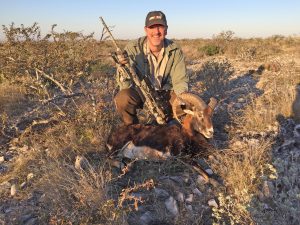 AH: "You are one of the pioneers of hunting with modern big bore airguns?"
EH: "I am not the very first person to shoot a big game with an airgun, but I am the one that brought it mainstream. I have three DVDs dedicated to big bore airgun hunting from 12 years ago. Back then I was being told by people that I shouldn't be doing this. I popularized it through the videos showing how it can be done. It's not a stunt. Anyone can do the same thing with proper preparation."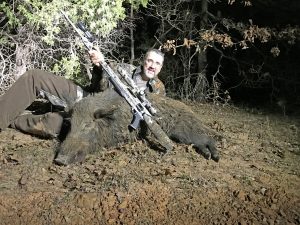 AH: "Do others in your family hunt or shoot airguns?"
EH: "My brother in Kansas hunts but not as much as I do. I've been taking my daughter hunting with airguns for four years now. She has shot three Whitetail deer with a Quackenbush airgun at the Quackenbush farm in Missouri where it is legal. This is our favorite time together. I wouldn't have it any other way. She enjoys the outdoors as much as I do. I'm proud of her."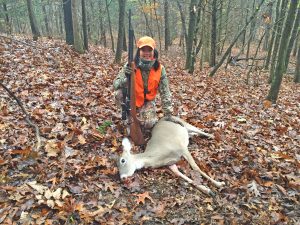 AH: "Do you have a favorite animal to hunt?"
EH: "It would be a combination of pigs and exotics. You can hunt those year-round here in Texas. Some of the pigs I've killed were served at my 'LASSO' shoot. I love to share what I shoot."
AH: "What is the biggest animal you've hunted with an airgun?"
EH: "The biggest animal so far is either my elk I killed in central Texas or the kudu I took while I was in South Africa airgun hunting. I've also filmed two bison airgun hunts. One in Wyoming and the other one in Texas."
AH: "What is the furthest shot you've taken on a large animal with your airgun."
EH: "So far my furthest kill has been 198 yards on a Mouflan ewe with my 45 caliber Air Force Texan (which is on my YouTube channel). My first long-range kill was 118 yard head shot on a pig. I have been shooting all that day and I knew the drop of the bullet perfectly. I don't have a problem taking long-range shots as long as I know I can make an ethical kill."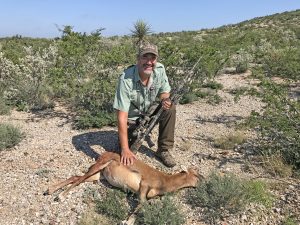 AH: "Could you tell us about your web site and Youtube channel?"
EH: "My website is adventuresafield.com and my YouTube channel is Eric Henderson/adventures afield. Adventures afield isn't just hunting, it's pretty much everything outdoors, right now it is mostly airgun hunting, but I plan on adding more later on. I have over 30 videos on that channel."
Subscribe to Airgun Hobbyist Magazine today!