Meet Alexis Lagan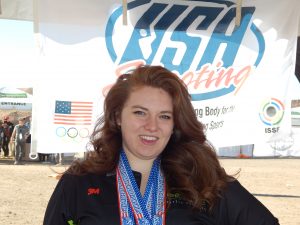 by Airgun Hobbyist
During Industry Day at the Range held at the Boulder Rifle and Pistol Club, Gordon and Tim Smith, had the pleasure to meet Alexis Lagan who is a member of USA National Shooting Team. The conversation they had follows.
AH: You've been shooting airguns for how long?
AL: I've been shooting women's air pistol for about six years. I've taken my Olympic career really seriously for the last five. When I first got started, it was more of a way for me to make friends at college. It wasn't with the idea of going on the Olympics. It was very different for me to go to shooting for fun to shooting as an Olympian.
AH: So this is your home range. How long ago did you start shooting here?
AL: I got my first .22 rimfire rifle when I was eight years old. It was pink and it had my name engraved on the stock, and my dad made it for me. My dad is a police officer so I was brought up with guns in the home. From a very early age, I learned about gun safety and to respect them and it was not something to play with at the house. For me, growing up with guns, when going away to college, it was the first time that I was really on my own and I needed a way of making friends and I saw a lot of girls going over to the pistol marksmanship team and they were all signing up for try outs. Little did I know that they were just signing up to talk to some of the guys there, because I signed up and ended up going to try outs, and there were no girls on my team, I was the only girl. It was to make friends, and I did make a lot of really good friends all over the country. It turned into a real passion for me.
AH: Did you attend the University of Utah?
AL: Yes, I graduated from the University of Utah, we don't have a rifle team there yet, but we are working on it.
AH: At the University of Utah, was it your first foray in to air pistol competition?
AL: I had never shot an air pistol before. So when I went to try outs, they gave me a Daisy pump air pistol. I called up my dad and said "I don't want to shoot this" and he said "Alexis, you didn't think they were going to give you a 50 cal to shoot in the Olympics, did you? This is what they shoot and it's a very interesting area that our family has never experienced and you should really try it out." Our team started with the Daisy air pistol where you get a lot of fundamentals and they allowed us to move on to a higher grade pistol for the University of Utah pistol team, with an electronic trigger. From there I ended up purchasing my Pardini K12.
AH: And that's what you are using now?
AL: Yes. I've been shooting my K12 for about four years. It's wonderful! It has a mechanical trigger, the compensator on it is not only for the barrel, but also compensation for the torque. It's really a great gun.
AH: Do you shoot 10 meter?
AL: Yes, just 10 meter. My other discipline is women's sport pistol that is 25 meters.
AH: You brought your medals along to show us?
AL: Yes, these are my medals from this year's nationals, I won silver this year, for women's air pistol and women's sport pistol. I just recently won the women's air pistol winter airgun championship.
AH: So you started with firearms before airguns?
AL: Yes. I can remember shooting .22's for the most part growing up. Then once I started getting a little bit stronger, dad started me shooting with 9 mil, and just kind of changing it up. As I said, my dad is a police officer so a lot of the things that he and I did were practice shooting rather than target shooting. The target shooting was when I was younger, then I moved on. My very first competition, I didn't realize it was a competition, until I won. It was on this range here. They have a hunter's safety course and at the end, they allow for the students to compete. They had to get special permission for me, I was underage, and I was the only female. So they had to hire a special coach to come in and coach the class as well as to be the trainer. I think I was only ten and the minimum age was twelve. I very easily beat the male competitors, to the point that a couple of the boys went home crying. I definitely have a competitive edge, even when I was very small. So, getting into this while going to college was not too unusual for me.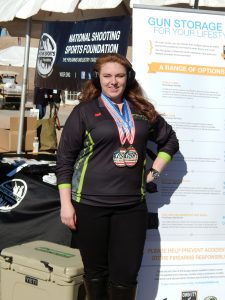 AH: Do you have any brothers or sisters?
AL: I have one younger sister. She does not enjoy shooting at all. Loud noises really upset her, she enjoys archery, doesn't enjoy shooting too much.
AH: When did you get accepted to the USA Shooting Team?
AL: My first time making the team was after winter airguns in 2015, I believe. That was the development team, the national team, was last year and this year. I placed first, last year, for women's air pistol at Nationals and this year, maintained my status.
AH: What is residency at the Olympic Training Center like?
AL: It's wonderful. You wake up every day, and you're always in the atmosphere of athletes. It doesn't matter, if the person next to you is a boxer or another shooter, you have that same mindset. You want to make it to the Olympics, you're going to train hard and work hard to get there. It's a great atmosphere, the competitors remind you of why you are there. Also, it makes you definitely feel a little bit more focused, not just in my shooting, but also in my workout and my nutrition. It really helps me to maintain that mindset. I think that it definitely shows in my shooting and it's helping me to live in the Olympic Training Center. I've improved a lot of my scores and have a much higher competitive edge.
AH: When do you think you'll compete in the Olympics?
AL: 2020. I had hoped to make the 2016 Olympics, but that was really kind of a wild shot, because people don't usually make it on their first run. The fact that I did as well as I did in 2016, was very impressive, which made it a reality to move to the Olympic Training Center. 2020 is the one that I'm really going for.
AH: We'll be pulling for you!
AL: Thank you.
AH: What do you find more accurate, airguns or firearms?
AL: It depends on the day. With air pistol, it's more relaxing. You are really focusing on one single aspect of shooting. It's a real high amount of mental exhaustion that you feel after air pistol. With sport pistol, it's a little more dynamic. If I'm feeling a little antsy, and just want to get out on the range, sport pistol is typically what I like to aim for. With how competitive that I am now, it's not so much of what do I feel like shooting today, it's more what do I need to be shooting today. With air pistol it definitely draws me in, especially as a physicist, studying you really learn how to stop everything and focus on one thing at a time and put in that mental step, only that mental ability that you have into one aspect. That very much transfers over to shooting, and shooting air pistol, to focus on that one thing at that one time. Sport pistol is more like what you'd expect. It's more entertaining to watch too. It's a little bit faster and a little more dynamic.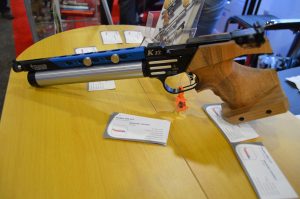 AH: What do you use on the range?
AL: On the range, I use a Pardini K12 air pistol. My .22 is also a Pardini. When I'm shooting, even air pistol, I still like to use ear protection. It is a loud sport, no matter what, especially with the K12s, they seem to pop really hot, really loud. Usually when I'm training I'll use Tactical 500 Electronic Hearing Protectors which are by Peltor Sport. They have Bluetooth, which is nice when I'm on the range I can be listening to music, but I can still hear my coach giving me commands or suggestions. I also use those when I'm shooting .22. When I'm actually competing, you are not allowed to use electronics on the line, so I'll use an inner ear, as well as over the ear. At my most recent competition, it gets really loud at the firing line, the thing you don't want to hear when you shoot a bad shot is everyone going "Ohhhhh nooooo".
AH: Can we look at your hearing protection?
AL: Of course. As I said, it connects with Bluetooth, so right now, it is connected to my phone. I can take phone calls, but that can also be a problem when you are competing, you don't want your coach calling you when you are in the middle of a competition and giving you advice while you are standing on the line. That's why electronic ears are not allowed in competition. They are really great for out on competition and training.