Brocock Bantam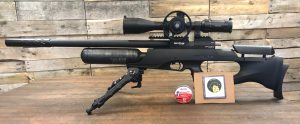 by Chad Kentner
When something unexpected happens in the airgun world, we owe it to ourselves to investigate it further. Today we will be taking a closer look at the rifle that defied the odds and won the Airguns of Arizona 2018 Extreme Benchrest (EBR) competition that has been held for the past few years in Phoenix, Arizona. This year, all bets were on Daystate or FX Airguns winning the main event and one did; kind of…..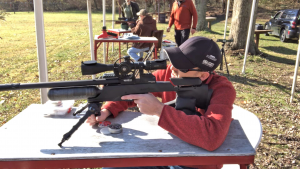 Brocock, a subsidiary company to Daystate won the main event in the form of a Brocock Sniper HR in .22 cal. shot by Claudio Flores. This result has encouraged me to take a closer look at the my own Brocock Sniper HR in .177 and to see what it can accomplish. This rifle has all the components one would expect in a championship item. It comes with Daystate's patented Harper Valve which is well known for its efficiency and pairs it with a Huma Regulator which everyone expects in a rifle of this price range.
Aesthetically the rifle is very easy on the eyes and comes with a synthetic stock that feels of solid quality and an adjustable cheek riser. The stock also allows easy access to the regulator for adjusting as well as the first stage trigger adjustments too. An integrated shroud makes the rifle very quiet in stock form and without a true need for a moderator. Throw a moderator on the end and you have one of the most quiet airguns on the market. Also, in the box you will find a 10 shot self-indexing magazine, a single shot tray (which ended up with a not so snug fit) and an extended quick connect adapter for reaching the slightly recessed fill adapter.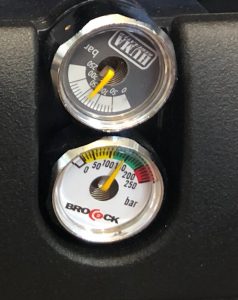 As the rifle was built as a pure hunter the trigger is very good, but you should not expect it to have the light crisp pull of a match style airgun. That being said, it is consistent with a well defined first and second stage once adjusted to your own liking.
Once the trigger was set, it was time to make sure it was shooting to my specifications. As delivered, it was hitting 820 feet per second mark using JSB 10.34 grain pellets, which placed it at around 15.4 foot pounds of energy and a little to weak for my liking, as I usually like to be just under the 20 foot pounds of energy mark. Luckily, I knew the culprit to my slow speed.
It was the factory installed regulator was set a tad too low. Unlike some other rifles, the regulator on this rifle is very easy to access and adjust. What is particularly nice about this setup is the dual gauges that have also been integrated into this rifle. The first gauge shows you the tank pressure, while the second gauge shows the regulator setting. This second gauge comes in handy when adjusting the regulator pressure to help monitor your progress as well as being able to quickly know when you fall of the regulator's set pressure when shooting.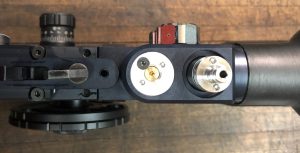 To adjust the Bantam's HUMA Regulator you will first want to degas the rifle. Trying to adjust the regulator under pressure can permanently damage the regulator and after spending your hard earned money, who would want to do that? Once the Bantam was degassed, I located a small brass screw on the underside of the rifle and almost directly next to the fill valve. Turning the screw ever so slightly in the counterclockwise direction brought the rifle right up to speed. If you were wanting to slow it down a bit, you would want to turn this same screw clockwise.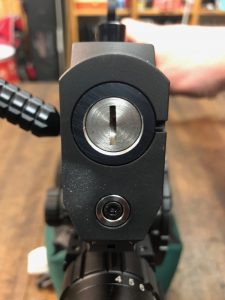 Further adjustment is available to the shooter in the form of a six position power knob near the breech as well as easy access to the hammer spring at the rear of the rifle. This power knob will can adjust the airflow through the port of the rifle and help to really dial in your speed for the best accuracy possible in the field. In my testing, I only needed to adjust the regulator to gain the desired accuracy.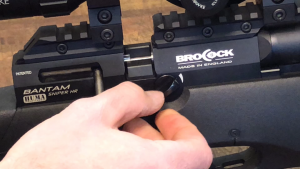 With the Bantam Sniper shooting at an average of 18.44 ft. lbs. of energy, it was off to the range to see what this EBR winning model could achieve in .177 caliber!
For testing purposes, I attached an Accu-Tac bipod to the factory installed accessory rail and found a comfortable bench and seat to shoot from. This really helped with stability and shot to shot consistency on my holds.
As I sat down at the range to finally shoot my new prized possession I noted some other subtle improvements over the first generation of the Bantam. The factory shroud that covers the Lothar-Walther barrel is much beefier and helps to muffle the sound to an even greater degree. So much so that you don't necessarily need a moderator screwed to the ½" UNF threads at the end of the barrel to be backyard quiet in .177 caliber. The other component that caught my eye was the larger cocking handle. This improvement is a nice addition and although cocking is very smooth, it does take a little extra to set the trigger and the additional material feels right.
After testing a wide array of pellets (JSB, H&N, RWS and Crosman), I found my particular rifle to like the Redesigned JSB Monsters and it shot them better than your grandpa spitting watermelon seeds into a tin cup! From 25 yards in, the Bantam Sniper HR was shooting groups less than a quarter inch without even trying. At 50 yards, I was getting groups at just over a half an inch when I did my part with little to no effort! For perspective, that is five shots inside of a dime at 50 yards and have you looked at how small a dime is?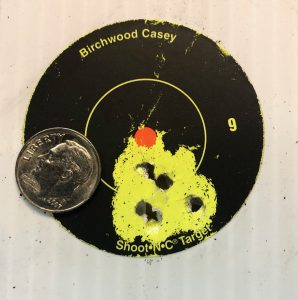 This accuracy was repeatable throughout my trips to the range and even by my shooting buddies at the local club. Each person that shot the Bantam Sniper seemed to do a double take as the accuracy and shot count exceeded their expectations.
Back in my shop I wanted to see exactly what I could expect as far as shot count and overall consistency between shots. So my chronograph came out for one last test. A downside that comes with testing such a nice airgun is the number of pellets it takes to fall off the regulator as I easily shot through a quarter of the pellets in my tin. After about 20 minutes and 90+ shots later, I found that the Bantam Sniper HR was able to be very consistent shooting at an average of 889.3 FPS with a maximum speed of 904 FPS and minimum of 878 FPS. The standard deviation came to 5.1 FPS with a Spread of 26 FPS. What does all of this mean? It means I could easily go an entire match, take it out in the field for pesting or a nice plinking session without the need to fill my rifle.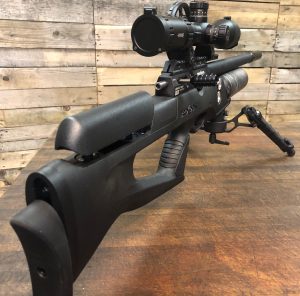 All in all I believe that the Brocock Bantam HR lives up to its billing as a top notch rifle in the airgun market. After having shot both the Mk1 and now the Bantam HR, I would not hesitate to make this purchase again. The Brocock Bantam HR is everything you would expect and more from a top notch pcp in the accuracy department and will be a top choice of many field target and benchrest shooters for years to come.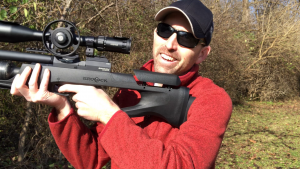 Be sure to check out Chad's YouTube channel, The Airgun Advisor, to view his online report of the Brocock Bantam air rifle.
Subscribe to Airgun Hobbyist Magazine today!