BSA Ultra JSR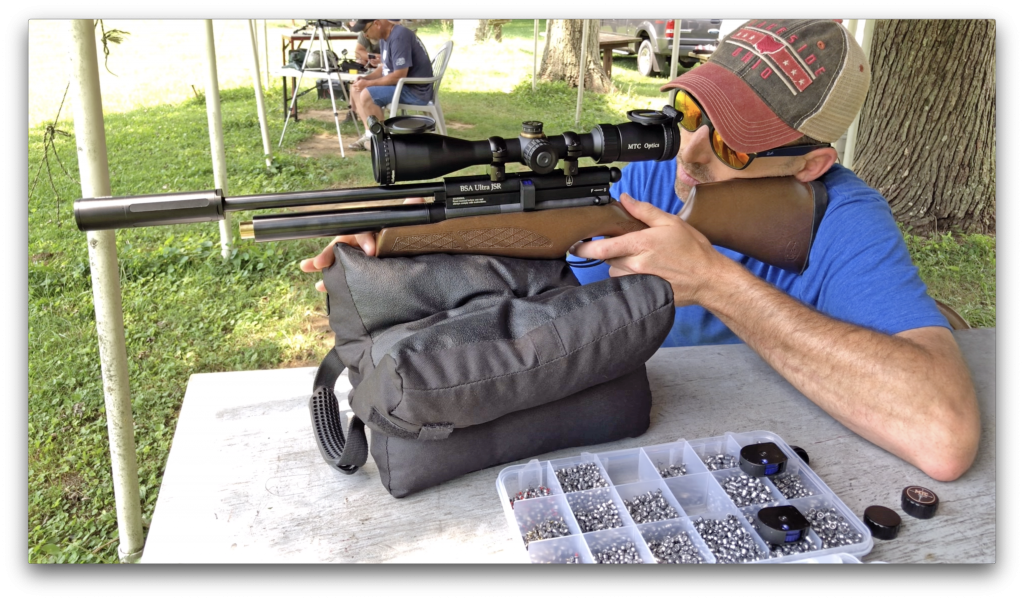 by by Chad Kentner
For many of us, our love of airguns goes back to our youth when our father or grandfather taught us to shoot. I have many fond memories of plinking in the backyard at tin cans, walnuts and other assorted targets we found laying around. Now that I have a son of my own, there was a huge desire to pass my enjoyment of airguns on to him. There was only one problem, what airgun should he use? Whether it was a traditional BB gun or a vintage pellet rifle, nothing seemed to be made for a youth of his size and age.
Online searches led me to a possible solution in the BSA Ultra JSR available in both 6 and 12 foot pounds variations. Not only is this a proven quality and reliable airgun with the infamous "Cold Forged" barrel, the stock has now been designed specifically with kids and those of shorter stature in mind. After some careful consideration I picked up the phone and placed my order.
Several days later the BSA Ultra JSR in .177 caliber, 12 ft. lb. version was delivered to our doorstep. After opening the box, I added a MTC Mamba Ultra Lite 3-10×40 scope and a DonnyFL Tanto moderator. All of these choices were purposeful in that the gun would need to remain as light as possible and quiet to make my son's first "real" endeavor into the airgun world fun. This goal was achieved as the fully dressed BSA Ultra JSR came in at just 6 lbs 15 oz.
Next, I needed to make sure the rifle would be consistent and for how many shots. Keep in mind that the air cylinder is fairly small and regulators don't come standard. The results of my chronograph testing were excellent for this price point. Results showed that it was capable of just over 30 consistent shots per fill at just over 11 ft lbs of energy right out of the box. This was great news, knowing that I could make it easy for my son to remember to fill his rifle every 30 shots or 3 magazines (comes with a 10 shot magazine).

For the BSA Ultra JSR to be consistent for my son, the trigger pull would also need to be light and repeatable. Breaking out my tools and trigger gauge I sat down at my workbench to make sure this would be the case. Out of the box the trigger gauge read 1 lb 4 oz with an easy to identify first and second stage. Which for this situation was perfect! Strong enough for my son to find the end of the first stage without setting off the trigger, yet light enough for a 9 year old to pull safely and easily. At this point, I was really thinking this was too good to be true and slowly put my tools away as there was no adjustment necessary.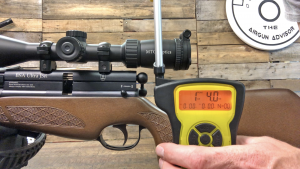 Finally, before I could let my son get his hands on the rifle it would have to prove accurate. After all, it is only 12 ft. lbs. and there would be no way such a rifle could be accurate out to 50 yards when compared to more powerful airguns. WRONG; the little airgun that can, showed it's true colors not only at close range, but out to 50 yards too! Producing groups that were .558 inches CTC with the JSB EXACT RS 7.33 gr. pellets. Considering the stock wasn't meant for an adult my size and certainly didn't fit my frame, I was more than impressed.
Once I had rifle setup and sighted in, it was time to introduce my son to the joys of airgunning. Every kid likes reactive targets, so I pulled out all the stops for this first trip out. There was chaulk that would explode, silhouettes of rams, bells that rang, targets that spin, bottles and cans. Seated at a shooting bench we went over safety rules, how to load the 10 shot magazine, when to refill the airgun (3 magazines in this case), aiming and finally the basics of a trigger.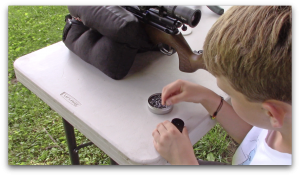 Of course, his first few shots were getting used to the idea and mechanics of shooting. Around the time he hit his second magazine of pellets he was ringin the bell at 25 yards, hitting tin cans and even the occasional ram silhouette would go flying from time to time. After the first round of shooting we went out to inspect the shots and where he hit the targets. Upon closer inspection of the ram my son pointed and asked with a slight grin, "What is this funny part hanging down from the ram's belly?"
My response was the look many a dad has given their child, that says "You know exactly what that is" then smirking we finished setting up the targets for another round of shooting.
No sooner had we sat down, reloaded our magazines and topped up with air he took straight aim at the rams. One shot, one hit and he set down the airgun. With a puzzled look on my face, I asked if he was done shooting for the day? He quickly said "No, but lets go see where that pellet hit!"

This time jogging out to the 25 yard marker we quickly found the ram and picked it up, only to find the pellet had struck that point on the ram that my son had so inquisitively asked about only minutes earlier. My "dad" response was one of pure shock. My little airgunner had hit that small spot as exact as any airgunner I had ever seen! Apparently we have another future airgunner in our midsts. As for that poor ram, well he has a permanent spot among my other airgun paraphernalia and will be a part of a memory that will be sure to last a lifetime.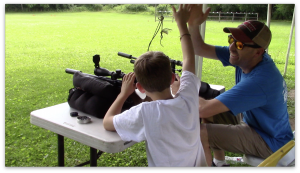 I attribute my son's success not to his amazing marksmanship (obvious future world champion), but to BSA and their vision to design the Ultra JSR. A rifle that was designed in such a way to provide a quality shooting for kids that actually fits their physical size.
Those of you looking to introduce your son, daughter or grandchild to airguns may also want to take a close look into this Ultra JSR. I am happy to say that it has finally been introduced to the U.S. market in great thanks to Precision Airgun Distribution and Airguns of Arizona.
Subscribe to Airgun Hobbyist Magazine today!