Gene's Tech Tip #1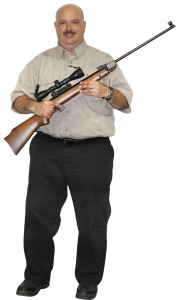 Everyone likes to do "what if" things! If I could only have one oil what would it be? The one oil I would choose is BALLISTOL. Ballistol is a mineral based oil that is safe on wood, leather and any firearms finish. Ballistol was developed in Germany in 1905 by the Klever Company. The German Army wanted one oil to do Lock, Stock and Barrel.

There are two major advantages of Ballistol:
1) Ballistol is neutral PH so it neutralizes acids and corrosive residues left over from Blackpowder and Corrosive primers used in Surplus Military ammunition.
2) Ballistol will not resinify, resinification is bad in the intricate mechanisms of a firearm or airgun.
What this means is a gun oiled with Ballistol can always be trusted to function even after long term storage. I have used Ballistol for over 20 years on the bench at AirVenturi, as a Gunsmith in local shops and to maintain my personal collection of Firearms and Airguns. As airgunners, Ballistol can save old leather seals that dry out and cause loss of compression. It is also a great oil to preserve your bluing and protect the stock.
Buy 2 cans!! One for the bench and one for your range bag. Rant time, YOU SHOULD ALWAYS HAVE A CLEANING KIT AND OIL IN YOUR RANGE OR HUNTING BAG. Your fellow shooters will appreciate it when a little spray gets them going again!!
Subscribe to Airgun Hobbyist Magazine today!